All of our orders are dispatched within 48 business hours AFTER the payment for the sale is confirmed, except in exceptional cases where this deadline cannot be fulfilled due to a reason to be communicated to the customer in advance.
If the payment method chosen is bank transfer or bank slip, it is advisable that the customer send the payment receipt so that the product is dispatched within 48 working hours, if the customer does not send the receipt the order will only be dispatched after compensation of the amount paid in our account which takes an average of 72 business hours, from the moment the payment has been cleared that the 48 business hours for dispatch will start to be counted, so be sure to send the receipt if there is urgency in sending .
After the product is posted, it is the customer's responsibility to monitor its delivery on the Correios website through the tracking code that will be sent to you in the email registered at the time of purchase.
- The receipt can be made by porters, secretaries, family members or any person responsible for receiving goods at the indicated address, by signing the delivery receipt and presenting the document.
- If there is difficulty in delivery on the 1st attempt (absent recipient, difficulty in locating the address, etc.), another 01 (one) attempt will be made, with an interval of up to 02 (two) business days.
- If delivery is not made in this new attempt, the product will be returned to our stock. For either situation, you will be notified by email.
When choosing FREE shipping, the order will be sent via PAC and the customer should consult the delivery page for their zip code via PAC on the product page. It is important to remember that Correios, as of August 22, 2016, made the following changes to its PAC and SEDEX product portfolio: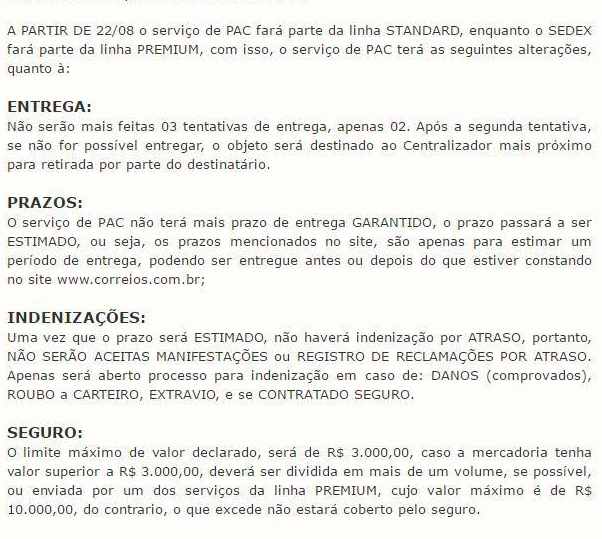 The transportation of orders is carried out by the MAIL and when making a purchase on our website automatically the customer should be aware of this. Therefore, any delay in the delivery of the order will be held responsible to the post office.